INTERTWINED

April 2021
Tacony Creek Park, Philadelphia PA

Assistants
Brenda Howell
Ann Nguyen

Community Liaisons
Priscilla Bell
Jose Ortiz Pagan

Special thanks to
Julie Slavet, Doryán De Angel, Susan Volz, Sarun Chan, Trinity Norwood, and all of the volunteers who participated in the vine harvest.

Photos
Robert Zverina, Sarah Kavage

A large ash tree. A rotting stump. A worn park bench. Made from invasive grapevine harvested on site, these sculptures responded to three sites in
Tacony Creek Park
. The harvest freed several large trees that were being harmed by the vines. The work re-imagines the relationship between the trees and the grapevines - instead of harmful invasives, could the vines be friends, protectors, allies? Migration and movement is a part of natural and human history, and these artworks speak to our interdependence, complex histories, and shared futures.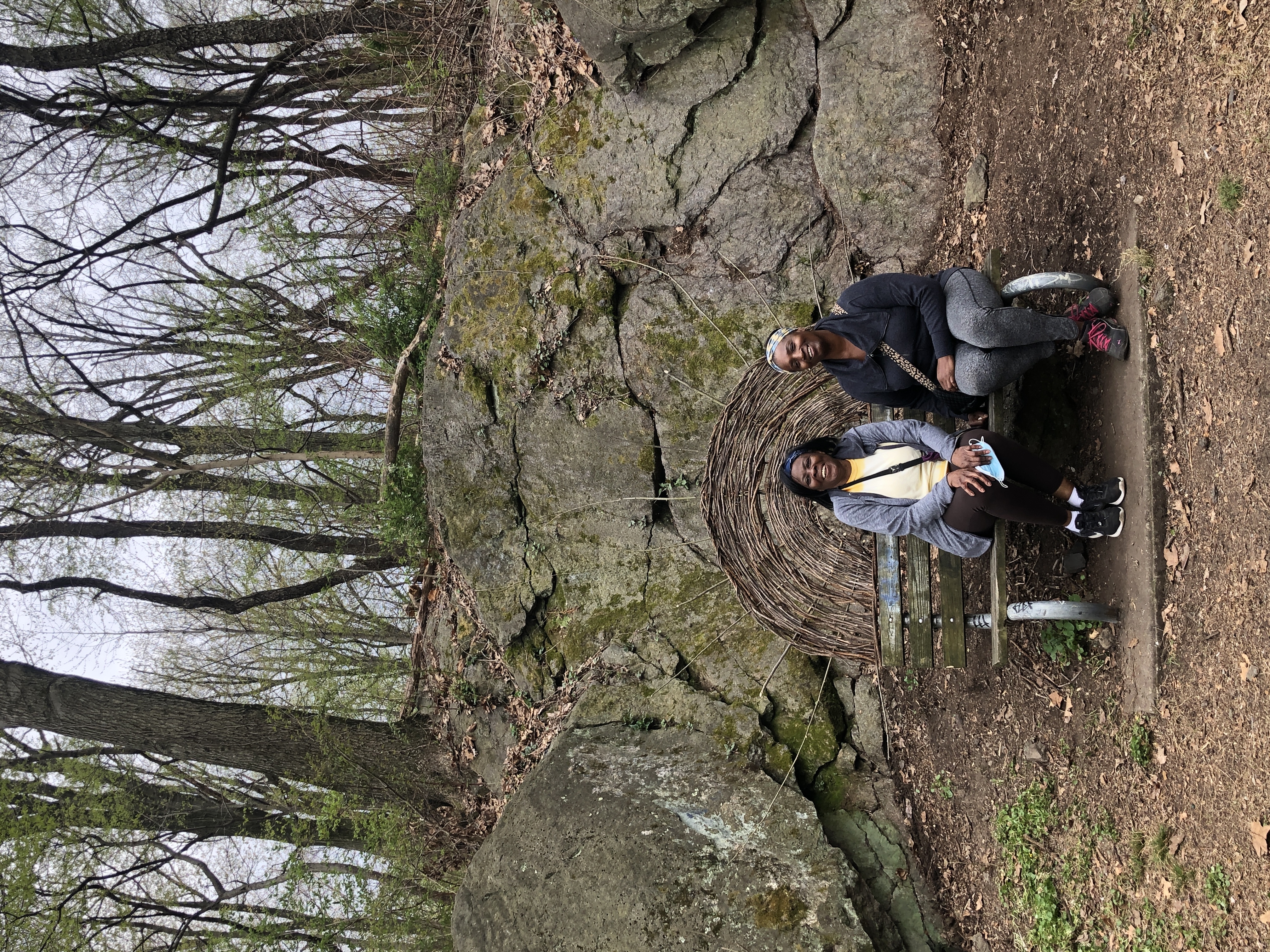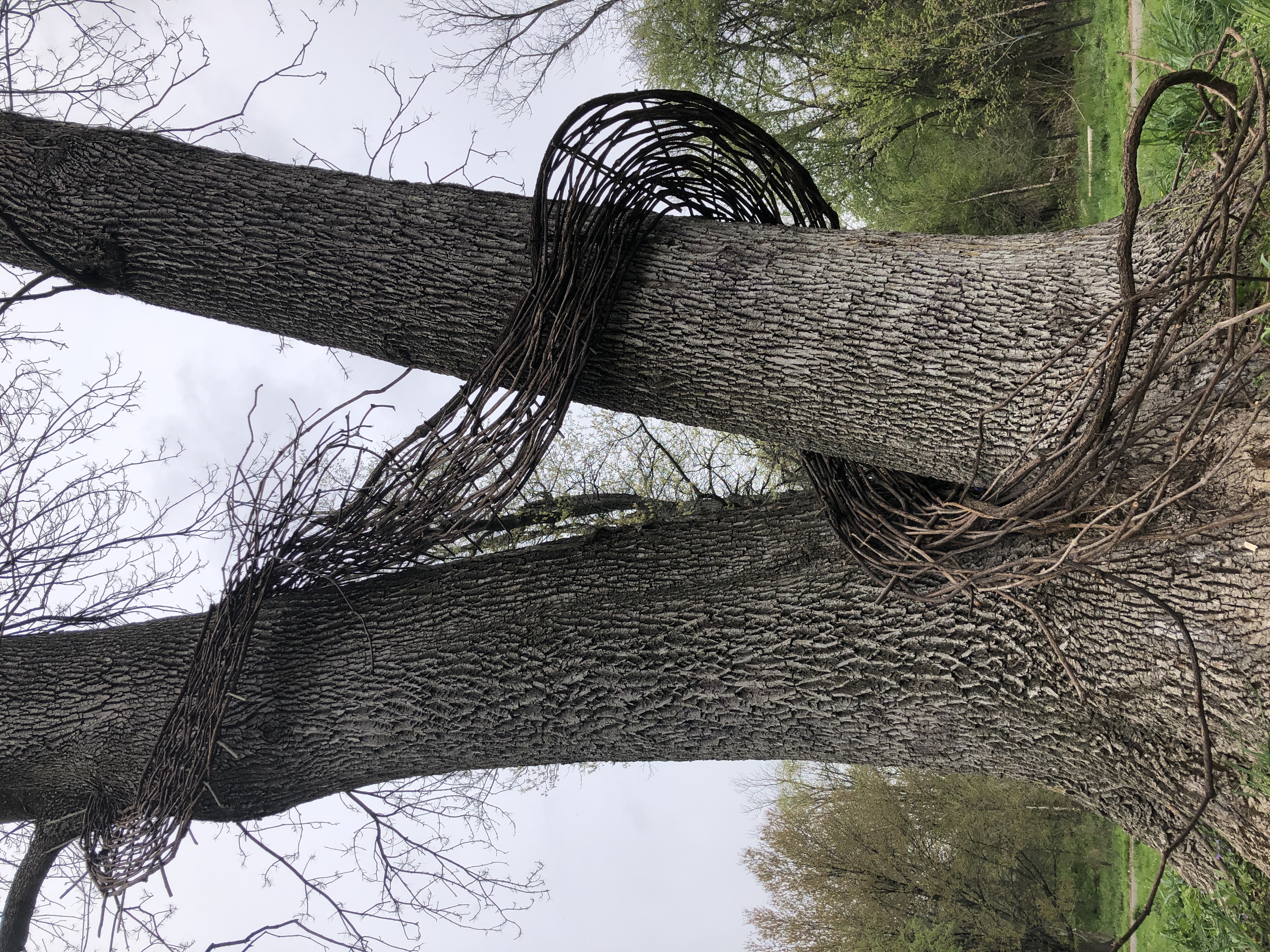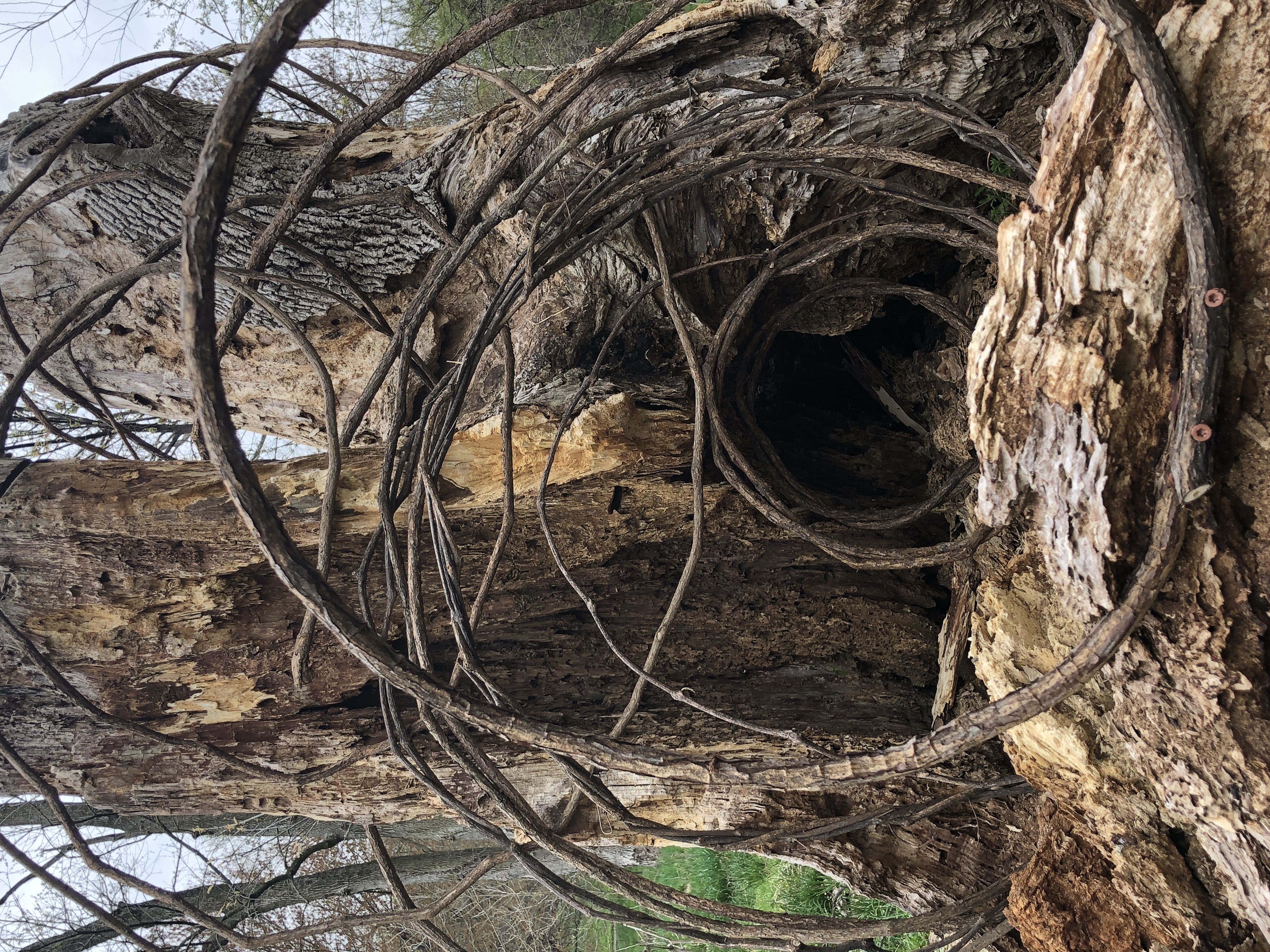 In partnership with the
Cambodian Association of Greater Philadelphia
, we held an opening ceremony, aligning in the spirit and season of Cambodian New Year to ask for blessings to the water and land. Trinity Norwood, spokesperson for the Nanticoke Lenni Lenape Tribe, was the featured speaker.
The text below is by Sarun Chan, CAGP Executive Director, who says it better than I ever could:
Cambodian refugees and community organizations came together and conducted a land acknowledgement of the Lenape Tribe, the original stewards of what we call Philadelphia today, dived deep into the Cambodian refugee experience in Philadelphia where we faced struggles and accomplishments, shared personal stories of our own upbringing, and connected our story of struggle, discrimination, and the perpetual foreigner sterotype with invasive vines that Sarah Kavage, an environmental artist, turned into works of art.

When our Cambodian refugee community arrived, we had hopes and dreams. There were people and organizations that helped us transition but there was also struggles with discrimination, racism, and rejection. We were seen as foreigners and at times invaders of this new land we had to call home. Over the years, the Cambodian continued to face many disparities but we also grew and reached many accomplishments. Cultivating our families and community, we began to flourish in our new home by building community hubs such as FDR Park, various Cambodian Temples, and the S. 7th Street Business Corridor.

In relation to these invasive vine species, many did not welcome them as they were seen as a negative impact on the local environment. The vines did not belong there, they were constantly removed and looked down upon. With this art project, Sarah Kavage worked with Tookany/Tacony Frankford Watershed Partnership (TTF), in transforming them into environmental art pieces throughout the Tacony Creek Park in North Philadelphia. This is very symbolic to our Cambodian community as since the 1990's to the present, our North Philly Cambodian community laid down their own roots in the park where we have played volleyball, grilled Khmer BBQ, and so much more.

From learning and paying tribute to the Lenape Tribe for this land that the Cambodian refugee community now calls home -- to cultivating our beautiful Cambodian community; so did these so called "invasive vines" transform into symbolic environmental art pieces to be viewed and spark wonder and awe.

BACK < THE FUTURE IS OPEN ENDED

NEXT > BEGINNINGS