THE FUTURE IS OPEN ENDED

March 2021
Capital City Farm, Trenton NJ
Farm Staff
Logan Davis (manager)
Walter Roberts
Derrick Branch
Community Liaison
Leon Rainbow
Special thanks to
Logan Davis and his collaborative, determined spirit, The Garden State Agrihood Program, Trenton Area Soup Kitchen, Mercer County Park Commission,
and all of the volunteers who helped to build the garden.
April DeSimone and
designing the WE
did foundational work to engage the community, establish a vision for the Farm, and call attention to the history of redlining in Trenton. This project builds on that work.
Photos
Jacqui Ivey, Sarah Kavage, Jay Watson
The site of this installation was formerly train tracks and is now Trenton's first urban farm. The site has undergone environmental remediation and since 2016 has been growing fresh, healthy food for the community and the Trenton Area Soup Kitchen.
The artwork was a large, elaborate strawbale garden created on a part of the farm that was otherwise unusable for food growing. Strawbale gardening is a great way to grow vegetables in paved or contaminated areas without having to build raised beds. In addition to adding a highly visible food growing area, the artwork created gathering spaces and seating, helping the CCF to take steps toward its goal of opening up more to the community.
During the community input session for this project, people shared how they felt that this part of the city, on the border of East and North Trenton, had been punished "by lines that other people put on a map." These redlining and urban renewal practices had an outsized impact in Trenton, especially on its Black community. The artwork responded to this conversation with an attempt to design a space where people feel like they can envision and define their own future.
The design mockup, made of little tiny paper "straw bales."
The drone photo below shows the installation shortly after we planted the bales.
As the season went on, we learned A LOT about adaptation, decay, and abundance. If you are growing in straw bales, decay is what makes the veggies grow - so you welcome it - but it also happened a lot earlier in the season than we'd thought. By June, the bales had begun to fall apart and were no longer stable (or attractive) for seating, as I'd envisioned. Farm Manager Logan Davis proposed planting into what was the seats of the bales, and letting the veggies go wild. There was no fighting the rapid decay and it seemed silly to let good growing material go to waste.
Just a few short months later, the straw bales were almost completely consumed by the vegetables, like a river overflowing its banks, shown in the aerial photo below. The new plantings basically doubled our growing area and grew tons more fresh food for the soup kitchen and the community. And the garden looked beautiful - yes, the fresh bales were functional for sitting, but for me wild abundance beats clean and sterile any day.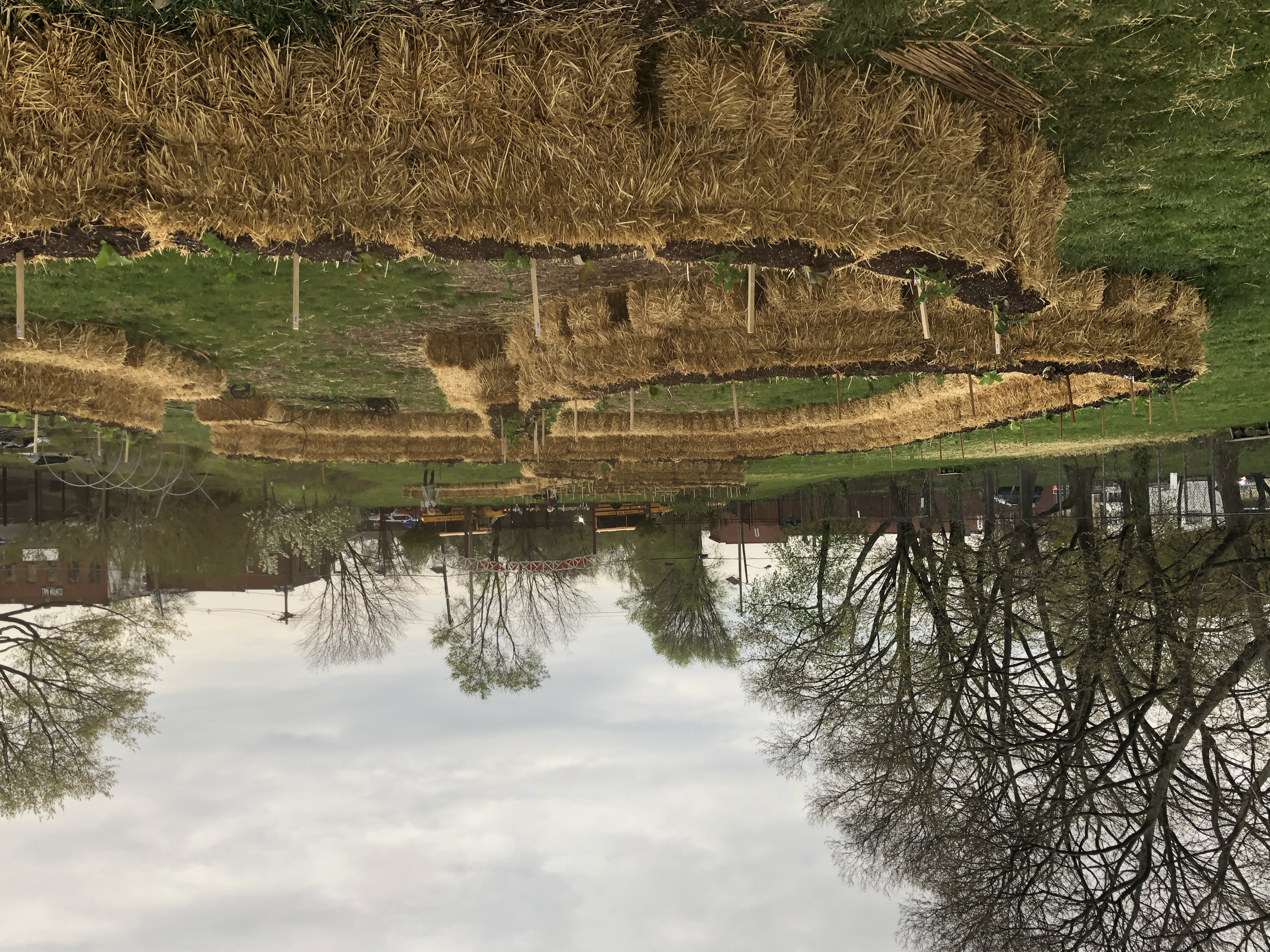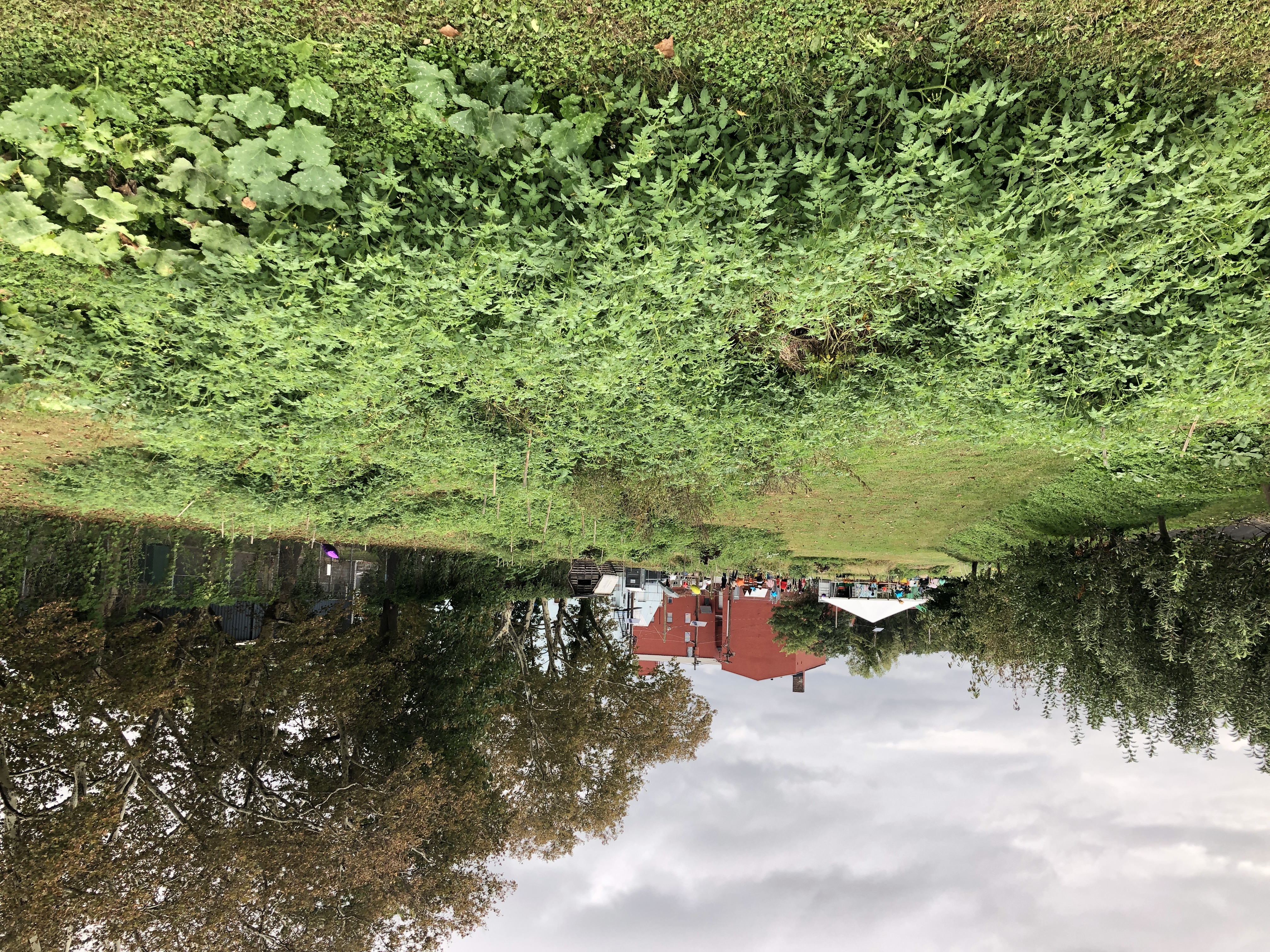 BACK < A CONVERSATION

NEXT > INTERTWINED